Contracted Production flow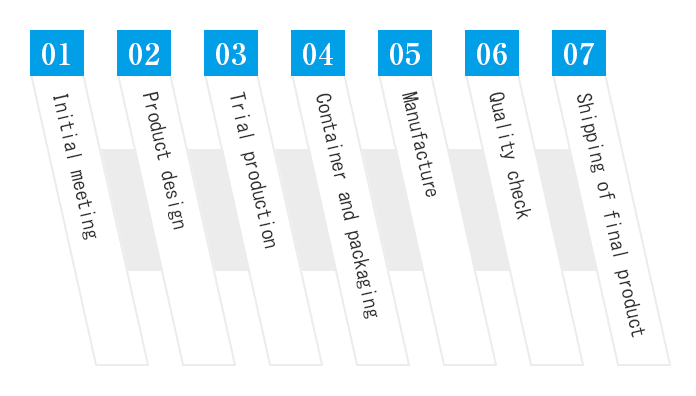 Step

Initial meeting

We have some meetings to assess a client's thoughts and requests with regard to the product. Based on the content of the discussion Kanehide Bio will examine the development and production of the health food and offer suggestions.

Step

Product design

In order to deliver a product that meets the wants of our clients, all aspects including raw materials, packaging, and product form are considered.

■

RawMaterials

Fucoidan/Turmeric/Agaricus/Kumisukuchin/
Chomeisou/Shikwasa/Noni/Vervain/Goya/Guava etc.

■

Packaging

Bottle filling / stick packaging / retort pouches / pills etc.

■

Product form

Powder / granules / hard capsules / granules / teabags / retort etc

Once product planning is complete the client is presented with suggestions.

Step

Trial production

Once we receive consent from a client for the product design we move into trial production. After the client has approved the samples that are produced, discussion moves on to container lots, packaging lots, manufacturing lots, and delivery price.

Step

Container and packaging

A container and packaging that fits with the product image of the client is designed.

Step

Manufacture

The entire process from raw material extraction through to final packaging is done at our factory. We also accept contract production for small lots. Our main equipment includes hot water extraction apparatus, extraction and concentration tanks(left photo)that enable specialized extraction using acid, alcohol, and enzymes etc, spray dryers, fluid-bed granulation apparatus, tableting apparatus, powder packaging equipment, hard capsule filling equipment, and retort pouch and set up equipment.

spray dryer

fluid-bed
granulation apparatus

tableting apparatus

powder packaging
equipment

Step

Quality check

■GMP (Good Manufacturing Practice)

Kanehide Bio has been certified by Japan Health and Nutrition Food Association as GMP since June 2011. This is for manufacturing management and quality control.

■ISO22000

Kanehide Bio, we have been accredited with ISO22000 and emphasis is placed on quality control. If a client's final product is thought to not meet safety and effectiveness standards, the quality of the products are scrupulously checked prior to shipping.

Step

Shipping of final product

At this point the production process is nearing completion and a product that meets the needs of the client has been produced. The final product is shipped to the client in a form that suits their needs.